Baby & Toddler
Best 14 Newborn Photography in Singapore: Capturing Precious Moments
Hooray! Your precious bundle of joy has finally made their grand entrance into the world. Now, it's time to capture those fleeting moments with a heartwarming Newborn Photography in Singapore. The excitement bubbling in your hearts as new parents is simply wonderful. That's precisely why we're here to make this journey a breeze. We've explored the best of Singapore's newborn photographers', ensuring it's a perfect fit for your baby's first photoshoot!
How to Choose the Perfect Photographer for Your Newborn Photoshoot
Selecting the right photographer to immortalize your baby's earliest moments is crucial, and we're here to guide you through the process. While photography skills are vital, there's more to consider when your little one is involved. Their fragility and precious nature call for extra care and attention. Here's what to keep in mind when you're on the hunt for the ideal photography studio.
Experience: The chosen photographer must be a seasoned pro, with the skills and expertise needed to handle a newborn with utmost care. Experienced photographers often prefer soft, natural lighting, which is gentle on your baby's eyes.
Care: Care is paramount. Look for photography studios with teams trained to handle newborns safely. Patience and extra care are non-negotiable during these sessions.
Budget: Think about your budget for this wonderful experience. Many studios offer packages that may even include shots of older siblings or the entire family, ensuring your memories are complete.
Quality: Trust your instincts. Opt for the photographer whose work speaks to your heart. After all, these photos will be cherished for a lifetime!
Still unsure about hiring a pro for your baby's first photoshoot? Check out heartwarming testimonials and Google reviews for Newborn Photography in Singapore
When's the Best Time for a Newborn Photoshoot?
Ideally, the best time to plan your newborn photoshoot is during the second or third trimester of your pregnancy. This gives you ample time to consider all the important factors mentioned above. Once your baby makes their debut, the ideal window for the photoshoot is between week 1 and week 6. During these early weeks, babies tend to sleep more and are generally easier to handle. However, newborns are also known for their unpredictable nature, so don't fret if your little one decides to shed a few tears during the session – that's where seasoned photographers work their magic! Rest assured and savour this precious time with your baby.
In addition to individual shots of your newborn, you might want to consider opting for a special newborn family photoshoot package. It's a memory that will be treasured for generations to come, capturing the essence of your growing family.
Whether you're on the hunt for Baby Photography, Infant Photography, or a Newborn Photo Shoot to showcase your little one, we've curated a list of trusted photographers you can count on:
1) Bambini Photography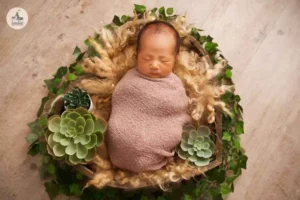 Bambini Photography has come a long way since its start in 2009, expanding its services from children and family portraits to include maternity and newborn photoshoots. They offer three distinct studio spaces for different types of shoots, with a dedicated studio exclusively for newborn photoshoots.
Bambini Photography is a dynamic team of photographers, designers, photo editors, and dedicated customer support professionals. They aim to make the process of capturing and preserving precious family memories as smooth as possible. The team receives guidance from Hart of Tomato Photo, continually improving to serve their clients better.
Their dream is to see the newborns they've photographed return for graduation photos and beyond, creating a legacy of cherished milestones for generations. Bambini Photography takes pride in holding a registered trademark in multiple countries, and they are committed to expanding their services to fulfil their vision of preserving family memories in Singapore and beyond.
Website: https://bambiniphoto.sg/
Instagram: @bambiniphotosg
Rates: Available upon inquiry
Contact number: 8717 1558
Address: 62 Ubi Road 1 #10-24, Oxley Bizhub 2, S408734
2) Bows and Ribbons Photography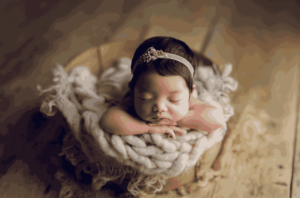 Bows and Ribbons radiates a warm, cottage-core vibe, transporting you to a cosy wood cabin, basking in the simple pleasures of family. Their work is sophisticated, boasting bold, vibrant colours, all captured through a lens of genuine affection. With Bows and Ribbons, you have the choice of a boutique studio session or an in-home photoshoot.
Bows and Ribbons Photography is a collaborative effort led by Yuyeth and Timothy Fernandez, a husband and wife team. Their shared passion for photography blossomed years ago when they first crossed paths. After tying the knot, they embarked on a photographic journey, initially capturing their travels, then transitioning to photographing friends, family, and, ultimately, newborns. Their distinct style is an artistic fusion of their individual interests, skills, and creative perspectives.
Website: https://www.bowsandribbons.photo/
Instagram: @bowsandribbonsphotography
Rates: Starting at $1080 for a 1-hour studio session dedicated to your little one.
3) Tomato Photo Studio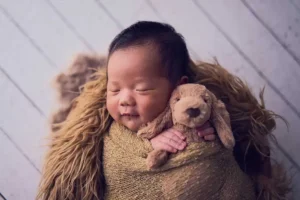 Tomato Photo Studio stands out as an excellent choice for capturing those precious moments with your newborn. This award-winning studio is led by a single talented photographer, Hart Tan.
Tomato Photo Studio offers a range of services, including family portrait photography, maternity photography, and striking black and white portraits, among others. If you're inclined towards outdoor photoshoots in iconic locations, Tomato Photo Studio has got you covered. They specialize in capturing outdoor moments at popular spots like Marina Bay Promenade, Fort Canning Park, and the Botanical Gardens, ensuring a diverse array of beautiful settings for your cherished memories.
Website: https://tomato.sg/ 
Instagram: @tomatophoto/
Rates: Available upon inquiry
Contact number: +65 8858 0088
Address: 62 Ubi Road 1 #10-23 Oxley Bizhub 2, Singapore 408734
4) Orange Studios Portraiture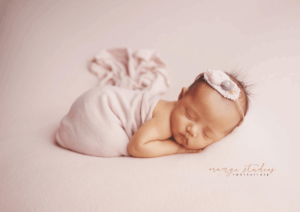 Orange Studios Portraiture is a heartwarming endeavour driven by the husband and wife team of Ryan and Wini. With their journey commencing in 2013, Orange Studios has been dedicated to capturing the most treasured moments of newborns and their families for nearly a decade.
As parents themselves, Ryan and Wini recognize the profound importance of preserving these irreplaceable memories. Motivated by this understanding, they've established a service that guides clients through every aspect of immortalizing a baby's precious moments.
The services offered by Orange Studios Portraiture encompass a broad spectrum, including newborn photography, outdoor and home photoshoots, maternity sessions, and family photography. These packages seamlessly complement the newborn photography service, especially if your family includes older children who will be part of the timeless frames. Orange Studios Portraiture is committed to ensuring every family's unique story is beautifully told through their lens.
Website: https://orangestudios.sg/
Instagram: @orangestudios
Rates: Available upon inquiry
Contact number: +65 8606 6950
Address: 67 Ubi Road 1, #10-03 Oxley Bizhub, Singapore 408730
5) Meadow Lullabies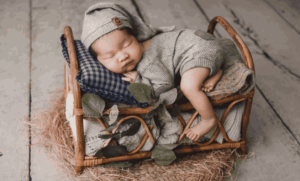 If you lean towards neutral tones and a rustic ambience for your photos, Meadow Lullabies is an excellent choice for your newborn photoshoot. They draw inspiration from the charm of the countryside and go the extra mile to source fabrics and props from Europe to create the perfect photoshoot. Meadow Lullabies pays impeccable attention to detail, ensuring that even the way fabrics are draped is perfect.
Through networking and seizing opportunities, James began photographing family portraits and events. His love for challenges and venturing into uncharted territory eventually led him to the realm of newborn photography. Since 2018, he has successfully photographed over 200 newborns.
In addition to his passion for photography, James wears the hats of a devoted father to two sons, an enthusiastic soccer fan, and a video game enthusiast. Although these days, his gaming adventures have taken a back seat to his growing photography career.
Website: https://meadowlullabies.com/
Instagram: @meadowlullabies
Rates: Available upon inquiry
Contact number: 9191 8015
6) Mamamiyo Photography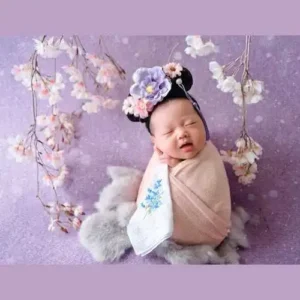 Mamamiyo offers the flexibility of either an in-studio newborn photoshoot or a session in the comfort of your own home. Their package, priced at $558, includes a 2-hour photoshoot, three sets of adorable baby photos, and one set of family photos. Costumes and props are included, so you don't have to worry about outfitting your little one.
Website: https://www.mamamiyo-photography.com/
Instagram: @mamamiyo.photography
Rates: Starting at $558 for a 2-hour shoot
Contact number: 9760 0798
Address: Macpherson Area
7) Ashley Low Photography:
If you've ever admired the whimsy of Alice in Wonderland, Ashley Low Photography allows you to recreate that magical atmosphere for babies aged 2 to 6 weeks. Their work features vibrant colours, woody tones, and flourishing flowers, all centred around your precious newborn. This is the essence of newborn photography – capturing their purest moments.
Website: https://ashleylowphotography.com/
Instagram: @ashleylowphotography
Rates: Available upon inquiry
Contact number: 6443 3953 or 9640 3774
Address: 110 Lor 23 Geylang, #05-12 Victory Centre, Singapore 388410 (Appointments only)
8) Studio Kinu Co:
While Studio Kinu doesn't specialize in newborn photography exclusively, they excel in creating work that captures the intimacy of kinship. Their sets blend a modern twist with tradition, ensuring your photos convey the comfort and love of family life. If you're looking for a newborn photoshoot that beautifully features your newest family member, this might be your top choice.
Website: https://www.studiokinu.co/
Instagram: @studiokinu.co
Rates: Starting at $320 for a 20-minute session for up to 4 people
Contact number: 9011 9702
9) Fion Boon Photography:
With expertise in baby, newborn, and family photography, Fion Boon Photography adds an elegant touch to newborn photoshoots while capturing the serenity of the moment.
Website: https://www.fionboon.com/
Instagram: @fionboonphotography
Rates: Available upon inquiry
Contact number: 9121 8879
10) White Room Studio:
White Room Studio, named the best portrait photographer by Singapore Tatler in 2021, offers a diverse portfolio that extends from children and pets to glamour and bridal. Their newborn photoshoots focus on capturing the quiet, intimate bonds between these little angels, their siblings, and their parents. With a natural light studio, the photos have a classic, focused, and no-frills quality that will surely melt your heart when you revisit them in years to come.
Website: https://www.whiteroomstudio.com.sg/
Instagram: @whiteroomstudio
Rates: Available upon inquiry
Contact Number: 6235 7037 or 8769 6003
Address: 219 River Valley Road. Level 2 Singapore 238277
11) Bobby Kiran Co:
Having worked with notable names such as Kimberly Chia, Mongabong, and Ladyironchef, the team at Bobby Kiran Co. ensures the delivery of high-quality photos. While their speciality isn't limited to newborn photoshoots for babies alone, their style primarily centres on creative, vibrant landscapes with warm tones, making them perfect for family photoshoots, maternity sessions, and weddings.
Website: https://www.bobbykiranco.com/
Instagram: @bobbykiranyeo
Rates: Available upon inquiry
Contact number: 8484 4052
12) Anna Panchenko Photographer:
With 14 years of experience, Anna Panchenko specializes in newborn photoshoots, having served over 400 clients. She believes in capturing tender moments genuinely and values the teamwork and chemistry between photographer and client, especially when handling fragile newborns. Her goal is to create work that paints a picture of happy moments in your loving home.
Website: https://happiness-in-hands.com/
Instagram: @beautynewborn
Rates: Available upon inquiry
Contact number: 9757 3771
13) Koji Photography:
Koji Photography adds an interesting twist to newborn photoshoots by featuring babies in charming setups that bring out their unique personalities. They've been in the industry since 2012, specializing in baby and newborn photography.
Website: https://www.kojicam.com/
Instagram: @koji_photography
Rates: Available upon inquiry
Contact number: 9183 8366
Address: 2 Gambas Crescent #08-15, Lobby 1 Nordcom II, 757044
14) Ella Wong Photography:
For those who prefer a cosy and straightforward approach to newborn photoshoots, Ella Wong Photography offers an excellent option.
Website: https://www.ellawongphotography.com/newborn
Instagram: @ellawongphotography
Rates: Available upon inquiry
Now that you have a list of some of the best newborn photoshoot studios and photographers in Singapore, complete with their websites and contact information, it's time to capture these precious moments! If this is your first time considering a newborn photoshoot, it's essential to think about factors like the photographer's experience with handling newborns, your comfort level, and the chemistry you share. After all, you want your photos to reflect your authentic journey into parenthood.