As a teacher by profession, AI tools for teachers have emerged as game-changers in education, providing innovative and cost-effective solutions to enhance the teaching experience. Let's get an immersive and personalized learning platform for your students!
There are numerous ways that AI is ready to be used in education, like delivering and personalizing lesson plans and generating different quiz tools for teachers to help identify areas where students may need extra help. 
Let's take it as a beginning because AI constantly evolves, and new tools are coming out daily, so the possibilities are virtually limitless. Here we will talk about some AI educational tools for teachers that they can easily incorporate in their daily classroom to help improve their students' learning outcomes, reduce their workload, and elevate their learning experience. So, let's get into it. 
Canva – AI-Powered Design Tool for Creativity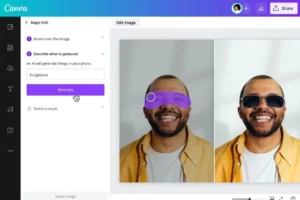 Introduction
Canva is an AI-infused design tool that makes it easy for teachers to create astonishing visuals and engaging presentations. You can also use it to make the best classroom decor. When you sign up to Canva with your school email address or upload verification of your teaching certificates, Canva will upgrade you to Canva for Education for Free. 
Features
As a school teacher, I can't help but share my enthusiasm for Canva. It's been a game-changer for me in so many ways. Imagine having a user-friendly interface that simplifies the creation of teaching materials. With Canva, I'm overjoyed to access a vast library of educational templates for everything from lesson plans to eye-catching presentations.
But it doesn't stop there. Canva has transformed the way I collaborate with my students. We seamlessly work together on projects online, enhancing the learning experience. The possibilities are endless, and there's so much more to explore with Canva to elevate your teaching. Give it a try, and you'll be amazed at the difference it can make in your classroom!
How to Use
Log in to your Canva account if you already have one.

Start with a blank canvas. Customize with text, images, and design elements.

When you finish your design, you can save and share it.
Cost
Enjoy Canva for free with its premium features online like 1 million free photos, 100+ design types, 5GB cloud storage, etc.
Video/Demo
Grammarly – Best Free AI Writing Tool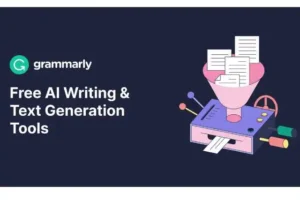 Introduction
Grammarly is a virtual writing assistant for teachers. It helps them to improve their writing by offering grammar and style suggestions. Your students can also try using Grammarly to write good pieces. It is a widely used and trustable tool worldwide.
Features
The best free AI writing tool provides real-time feedback on spelling and grammar. You will get clarity and readability scores for your writing. It will help enhance your vocabulary, maintaining a writing style and perfect tone. You will enjoy customizable settings when using it for your classroom. It's a versatile tool for enhancing writing skills across all subjects.
How to Use
Sign up for a free Grammarly account.

You can use it online or install an extension for easy access.

Apply suggestions to improve your writing effortlessly.
Cost
A free version of Grammarly offers you a variety of features. Plus if you want to get a plagiarism report and edit the sentence structure, then you need to pay a few for it. 
Video/Demo
Education CoPilot- AI Educational Tool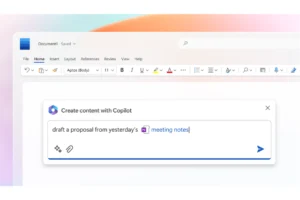 Introduction
We no longer have to spend hours designing lesson material or creating visually stunning and engaging content for our lessons; instead, Gen AI Educational tools can help with that. Education Copilot allows you to collaborate with the parents too. So, you can get real-time support with this user-friendly platform.
Features
This tool can generate and structure lesson plans that fit your student's needs. You can take benefits from the menu of quiz tools for teachers that help you in quiz building, educational handouts, AI freestyle, ideas generator, context builder, PowerPoint generator, etc. Here you can also track your students' progress through detailed analytics, ensuring you stay on top of your educational goals.
How to Use
Simplify educational management with Education CoPilot.

Sign up and create/join classes effortlessly.

Streamline lesson planning and resource sharing.

Efficiently manage students and engage with the community.

Updated notifications will help you in a smoother educational journey.
Cost
Teachers can start using a free trial of the tool and then just a few dollars to enjoy the exceptional features of this platform.
Video/Demo
Quizlet – AI Quiz Tool for Teachers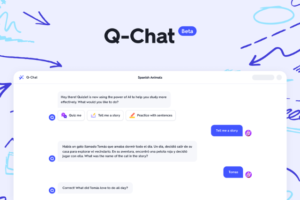 Introduction
Quizlet is your go-to AI-enhanced platform for creating captivating quizzes, aesthetically pleasing flashcards, and a host of interactive study materials. Elevate your teaching experience by using these cutting-edge quiz tools to engage your students in the wonderful world of learning!
Features
Speaking from my experience as a school teacher, Quizlet has been a game-changer. It's not just a platform; it's a world of possibilities. With Quizlet, I've been able to create study materials that truly cater to my students' needs. I can add images and audio to questions and answers, making learning a multi-sensory experience.
What's more, Quizlet offers a range of study modes – learn, write, spell, and test. It's incredibly versatile, allowing me to adapt to various teaching styles and preferences. The fact that it supports multiple languages, provides offline access, and even offers voice support, has been a real game-changer for my classroom.
And here's the magic of Quizlet's AI – it suggests the best study mode based on each student's progress, ensuring a personalized and effective learning journey. It's like having a personal tutor for every student in your class!
How to Use
Sign up for a free account or log in.

Create flashcards or find existing sets.

Choose your study mode (Learn, Write, Spell, or Test) and start learning!
Cost
Quizlet offers a free basic version with premium features available for a subscription fee. It also offers an annual free trial.
Video/Demo
PlanifAI App for Teachers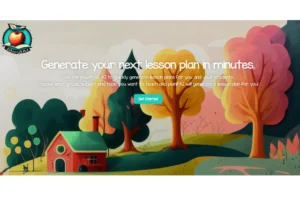 Introduction
PlanifAI is an AI-powered scheduling and planning app that can be a lifesaver for busy preschool teachers. It is a project using Chat-GPT to help teachers formulate quick and easy lesson plans.
Features
Automated Scheduling: PlanifAI can automatically generate your daily or weekly schedule based on your preferences and constraints.
Calendar Integration: It syncs with your calendar app, helping you manage appointments and meetings efficiently.
Task Management: You can create to-do lists and prioritize tasks to stay organized.
Personalization: The app learns your preferences and adjusts schedules accordingly.
How to Use
Input your preferences: Specify your preferred teaching hours, break times, and any meetings you need to attend.
Add tasks: Enter your teaching and lesson preparation tasks, as well as personal to-dos.
Let PlanifAI do the work: The app will generate an optimized schedule that accommodates your needs and priorities.
Cost
PlanifAI offers you everything you need to get started for free. So generate quick and easy lesson plans and also get AI conversational assistance for $0.
Pixlr – AI-powered Photo Editor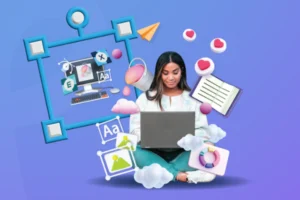 Introduction
Pixlr is an AI-powered photo editor that is an alternative to the complicated Adobe Photoshop. It empowers teachers to enhance their visual storytelling with stunning images. It customizes pictures and creates new things for your online educational videos and courses. 
Features
Pixlr offers a simple and intuitive interface for editing educational images. Some creative filters and effects will boost your pictures. You can use the free AI tool for video editing online for free, there is no need to install its app. Collage tools make your posters and presentations more aesthetic.
How to Use
Edit images easily without the need to download software.

Pixlr offers intuitive tools for quick edits, graphic design, and more.

Teachers can work on visuals and share them with students effortlessly.
Cost
Pixlr offers a free basic version with premium features available for a subscription fee.
Video/Demo
Curious about why preschool teachers play a vital role in early childhood development? Don't miss out on the insights in our latest post.
Gradescope by Turnitin
Introduction
Gradescope by Turnitin is a versatile AI tool that simplifies the process of grading and assessment, making it an excellent choice for preschool teachers who want to streamline their evaluation methods.
Features
Automated Grading: Gradescope automates the grading of multiple-choice, short-answer, and even handwritten assignments.
Detailed Analytics: It provides insightful analytics on student performance, helping you identify areas where your students may need extra support.
Rubric-Based Grading: You can set up custom rubrics to ensure consistent and fair grading.
Time Efficiency: Grading time is significantly reduced, allowing teachers to focus on other aspects of their classroom.
How to Use
Scan Student Work:
Scan and upload student assignments for automated grading.
Benefits: Saves time, reduces cheating, and declutters your office from physical exams.
Grade Submissions:
Evaluate submissions using a flexible rubric for detailed and consistent feedback.
Benefits: Efficient grading process, maintains fairness in evaluation.
Send & Export Grades:
Easily distribute grades to students or export them to your gradebook.
Benefits: Streamlined communication of grades, easy record-keeping.
Get Detailed Analytics:
Access per-question and per-rubric analytics to understand student performance.
Benefits: Insightful data to tailor teaching approaches and identify areas for improvement.
Cost
Gradescope offers a free plan with basic features, while premium plans are available for more advanced functionalities. Pricing may vary based on the number of students and features needed. You can email them at sales@gradescope.com, For pricing
Video/Demo
Duolingo – AI- Power Language Learning Companion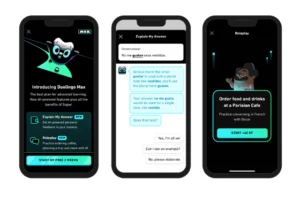 Introduction
Duolingo offers learning languages with AI power. It has enjoyed being in the market for over a decade and offers a great number of languages for its users. It is one of the best AI tools for teaching English.
Features
You will find interactive lessons for teaching and learning languages. It offers personalized learning, and you can enhance your language skills by following the instructions. You will learn to teach language like a game where you get rewards and level you up. This app is used by millions of people and is updated from time to time. 
How to Use
Visit the Duolingo website and select the language you want to learn.

Start learning with basic lessons. You must practice speaking, listening, reading, and writing.

Your skill tree will show your progress. 
Cost
Duolingo is totally free for its exceptional features.
Video/Demo
Brainly – AI-Powered Homework Help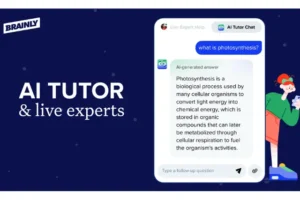 Introduction
Brainly works like Brainly. This AI educational tool connects students to their peers and teachers for homework assistance. Teachers can help their students online and help them solve their confusion.
Features
Teachers can help students with their home assignments online. You can take it as a classroom resource and get verified answers. Tracking student's progress is a unique feature of the platform. You can access resources and engage in discussions to enhance your teaching skills and knowledge.
How to Use
Post your academic question or problem on Brainly, specifying the subject and topic.

Receive answers and explanations from the Brainly community, which may include students, teachers, or experts.

Review the responses and keep practicing.
Cost
Brainly can be used for free for 6 months, and you can also subscribe to the annual plan at cheap rates.
Video/Demo
Socrative – Interactive AI teaching tool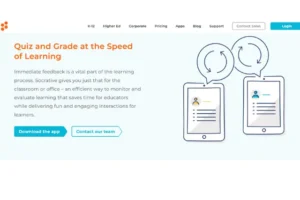 Introduction
Socrative is a dynamic AI tool designed for interactive teaching and student engagement in preschool classrooms.
Features
Real-Time Quizzes and Assessments: Conduct real-time quizzes and assessments to gauge student understanding.
Instant Feedback: Receive immediate feedback on student performance, allowing you to adapt your teaching on the fly.
Customizable Content: Create and share your own teaching materials, including quizzes, polls, and games.
Reporting and Analytics: Access detailed reports to track student progress and areas that may need additional attention.
How to Use
Create quizzes and assessments: Design fun and interactive quizzes for your preschool students.
Share quizzes: Provide students with a unique code to access the quiz on their devices.
Conduct quizzes: Students can answer questions in real-time, and you can view their responses instantly.
Analyze results: Utilize the reports and analytics to assess student performance.
Cost
Socrative offers a free plan with basic features, and they also have two premium plans for more advanced functionality. Pricing may vary based on the number of students and features required.
Video/Demo
Last Words
As a school teacher, I can't stress enough how these recommended free AI tools have transformed my educational journey. They're not just for enhancing your teaching; they're also free, which is a tremendous benefit. With these tools, you'll discover precisely what teachers need to thrive in the ever-evolving world of education.
So why wait? Give these remarkable tools a try and witness how they can personalize your teaching style, making your lessons more engaging and efficient. Embrace the future of education with AI – it's time to rev up our teaching with these incredible tools!